Discover Don Lee Farms' line up of crispy and deliciously flavorful street-style tacos. Take our handmade Crispy Beef Birria Tacos, for example. They're made with slow-cooked shredded USDA Choice birria beef and creamy, salty and milky cotija cheese. But what really sets us apart is our crispy, gluten-free tortilla shells that will give you the perfect crunch with every bite. These lineup of tacos were made for your air fryer. Simply pop them in and in minutes, you'll have a perfectly crispy meal that will satisfy your taste buds and leave you feeling full and satisfied. So if you're looking for a quick and easy meal that doesn't sacrifice taste, try our Crispy Birria Beef Tacos today!
MADE BY A

FAMILY

FOOD COMPANY
Great food shouldn't just be delicious - it should be easy and convenient, too. That's why our mouthwatering range of culinary-focused burgers, sandwiches, tacos, bowls, and bites are crafted to satisfy any craving. From juicy burgers and hearty bowls made with kitchen-found ingredients to flavorful meatballs and tasty bites that are perfect for sharing or snacking on the go, we've got something for everyone. And the best part? Our foods are not only delicious, but they're also easy to prepare and easy to enjoy.
elevate


your 🍔
burger
game.
grilled

with over 800° of heat🔥
Don Lee Farms SteakHouse Selects™, a premium brand of flame grilled burgers that transcend the ordinary. Each burger is authentically grilled to perfection over 800° of heat and flame, sealing in every ounce of deliciousness. They're fully cooked and ready to enjoy in the microwave or air fryer in just 2 minutes!
TRUSTED

BY
THE LARGEST FOOD BRANDS
At Don Lee Farms, we're all about creating culinary-focused meat and plant-based proteins that are second to none. Our foods are made with kitchen-found ingredients and made in our national production facilities located in Southern California and North Texas. We're always experimenting with new ingredients and cooking techniques to create innovative dishes that will tantalize your taste buds. And with a long-standing reputation for excellence, it's no wonder why we're the trusted food maker for some of the largest and most successful food brands in the world.​ We're excited to share our passion for food with you.
BILLIONS OF BURGERS, BOWLS & MORE MADE

SINCE '82
We're proud to have over 40 years of experience in making food people love on a national scale. Since 1982, we've made billions of burgers, bowls, and more, using our expertise to craft delicious and convenient food. Our commitment to culinary innovation means that we're always looking for new and exciting ways to bring flavors to your plate, while our dedication to quality means that we use the best ingredients in our products. Whether you're cooking for one or feeding a crowd, you can trust Don Lee Farms to deliver food that's easy to prepare and easy to enjoy.
- - - - - - - - - - - - - -
Established in sunny Southern California in 1982.
- - - - - - - - - - - - - -
Many 1st, including America's 1st organic: plant-based burger and crumble.
- - - - - - - - - - - - - -
Billions of burgers, bowls & more made.
BURGERS

, BOWLS, TACOS & MUCH MORE...
Our commitment to making delicious food accessible to everyone means we offer a range of high-quality products at affordable prices. At Don Lee Farms, we put our heart and soul into every product we make, because we believe that food should be more than just fuel - it should be a source of joy and satisfaction. So go ahead, indulge in our delicious offerings, and taste the passion in every bite.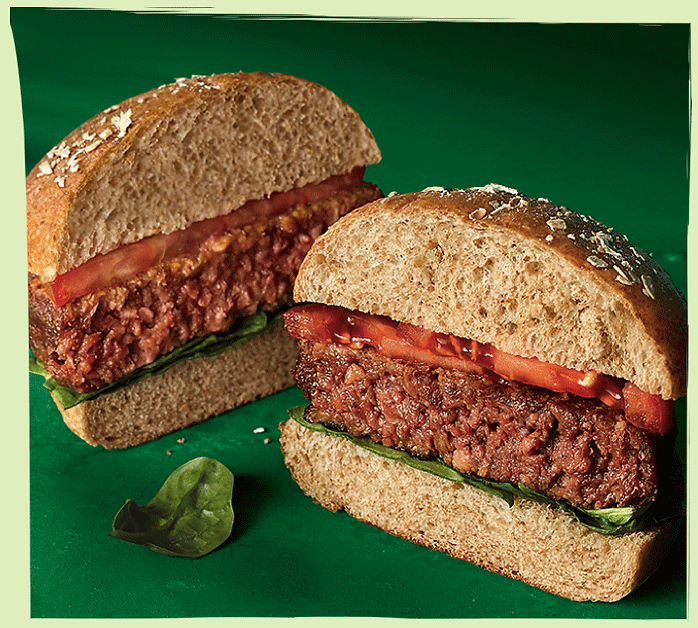 PLANT-BASED

PROTEIN PIONEERs
Are you on the hunt for a sustainable food choice that's also delicious? Look no further than Don Lee Farms. With decades of plant-based protein experience, we've been crafting burgers with extruded plant-based proteins since the 1980's. We firmly believe in the power of plant-based proteins and the benefits they offer. By offering alternative protein options, we can help shrink our carbon footprint, preserve precious natural resources, and pave the way for a healthier planet. At Don Lee Farms, we're committed to expanding protein options for all consumers, with products that are accessible, affordable, and downright tasty.
ORGANIC

, LOCAL & SUSTAINABLE
Our organic ingredients are made with cultural and biological practices that support the cycling of on-farm resources, promote ecological balance and conserve biodiversity in accordance with USDA organic regulations. This means that our organic growers regularly maintain or enhance soil and water quality, while also conserving wetlands, woodlands, and wildlife.